Bob Leonard 5K River Run and 1K Colonial Cafe Color Run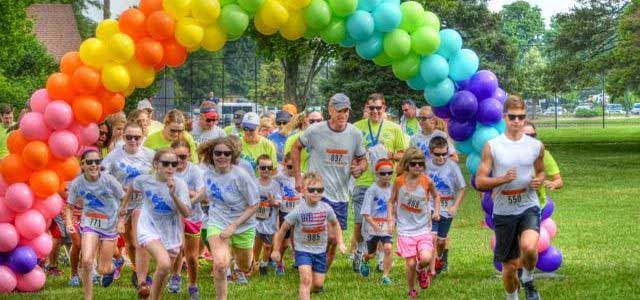 On July 30, 2017 the River Corridor Foundation of St. Charles and the St. Charles Noon Kiwanis Club once again hosted the Bob Leonard 5K/10K River Run and the Colonial Cafe 1K Color Run. The race kicked off at the Historic Grand Pavilion in Pottawatomie Park, St. Charles, IL.
The Certified 5K Course travels over the Fox River to the Timbers Subdivision, into Timbers Park, then back to Pottawatomie Park, while the 10K Course continues into the beautiful Wild Rose Subdivision before winding back to the finish line. This is one of the most scenic and energizing routes in the Western suburbs utilizing all-terrain. Following the 5K/10K River Runs, all participants had the opportunity to dash through 5 color stations on a course located within Pottawatomie Park!
Proceeds directly benefit the River Corridor Foundation of St. Charles and the St. Charles Noon Kiwanis Club. The River Corridor Foundation funds are allocated toward its mission is to enhance the Downtown St. Charles Riverfront as a destination for cultural, educational and economic opportunities that are accessible to all – Including the "Active River Project."
The Noon Kiwanis Club has designated its portion of the proceeds to sustaining the goal of improving the lives of children throughout the greater St. Charles community "Young Children: Priority One."