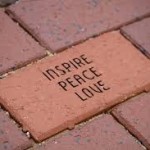 Become a lasting part of the Bob Leonard Walkway. The River Corridor Foundation of St. Charles is proud to offer its supporters the opportunity to donate customized brick pavers.
Commemorative pavers are a thoughtful way to say thank you, recognize a birth, graduation, wedding or anniversary, or to honor the memory of a loved one. Professionally, this is an ideal way to recognize key accomplishments and celebrate civic pride.
Engraved 4x8 pavers will be laid in the walkway with your personalized message.
Each brick may be engraved with up to three lines with 16 characters per line including spaces.
Payment for your donation may be made online through PayPal or a check can be mailed to:
River Corridor Foundation of St. Charles
P.O. Box 3753
St. Charles, IL 60174
The foundation's initiatives are ambitious, and there are tremendous opportunities for civic, community, and church organizations to lend a hand. Clubs, organizations, friends and individuals can help by giving of your time, talent, and resources, or by donating a legacy brick. Please help us make the Fox River corridor of St. Charles a community centerpiece that is a destination for all.