The Conservation Foundation and The River Corridor Foundation of St. Charles team with Friends of the Fox River to clean up Fox River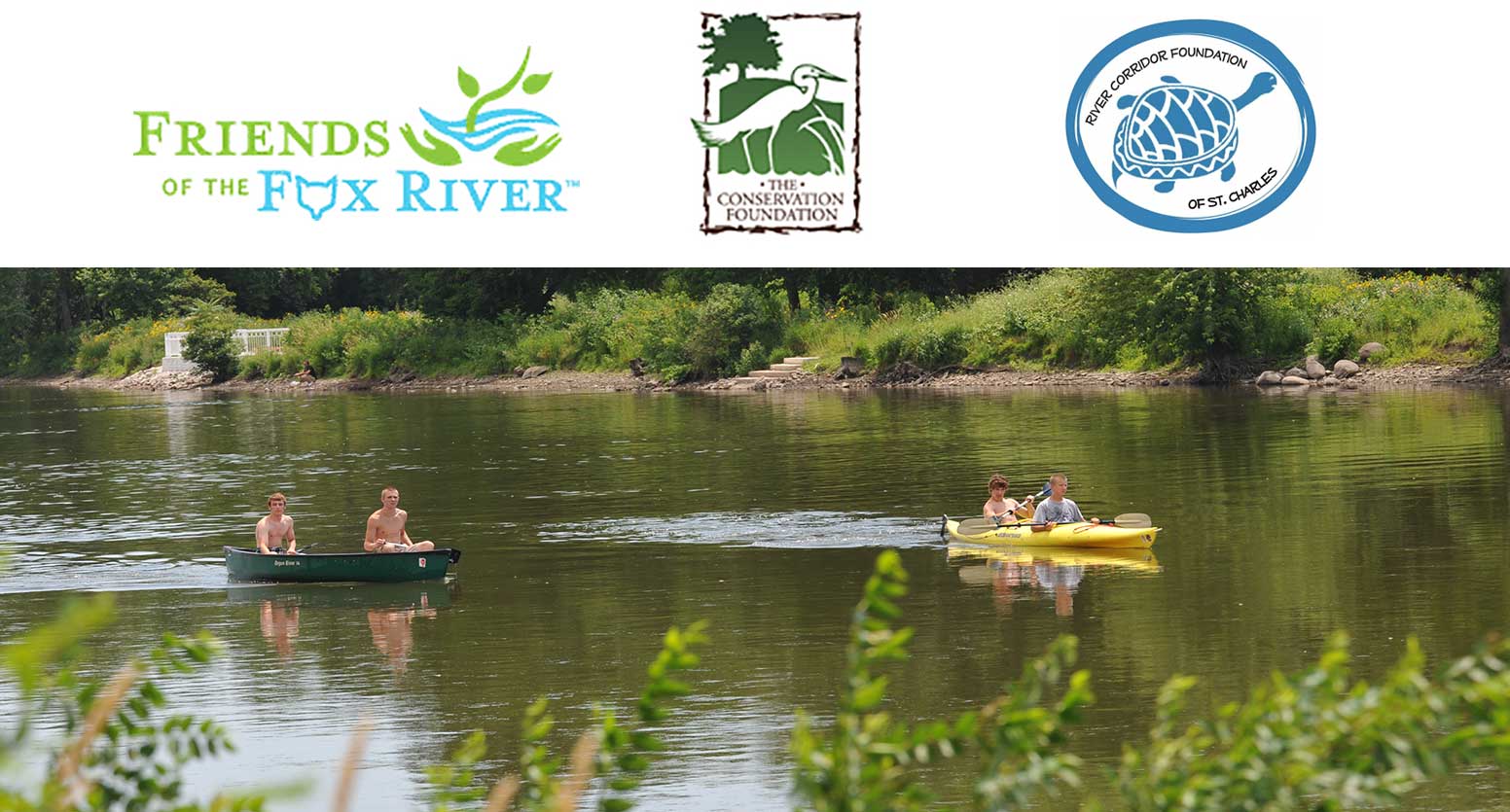 Volunteers Pitch In as Part of Fox River Cleanup from Wisconsin through Illinois St. Charles Event @ Ferson Creek Park from 9:00-11:30 AM Saturday Sept. 21st
St. Charles, IL – Local citizens are banding together to clean up litter and trash along the entire Fox River from Waukesha, Wisconsin to Ottawa, Illinois. The River Corridor Foundation of St. Charles and The Conservation Foundation are working together to conduct a volunteer river clean-up on Saturday, September 21, 2019 as part of a new annual "It's Our Fox River Day" river cleanups and community celebrations in towns along the Fox River being coordinated by Friends of the Fox River.
"TCF and the River Corridor Foundation are dedicated to protecting the Fox River because a healthy community starts with a healthy river. Clean and healthy rivers have the potential to provide everything from clean drinking water to recreation opportunities to fish and wildlife habitat," said John Rabchuk, River Corridor Foundation volunteer.
Friends of the Fox River, a volunteer advocacy group located in Elgin, Il is coordinating this first river-length cleanup of the Fox River by providing support to local organizers, fundraising with local businesses to support the event in their individual towns and reaching out to Mayors, City Councils, Park Districts, Forest Preserve Districts and other organizations from many of the cities connected by the Fox River will be participating in this historic event.
This first river-length cleanup is a great opportunity for civic engagement and will raise public awareness of the trash that accumulates in our waterways. Learn more about "It's Our Fox River Day" cleanups and community celebrations at https://friendsofthefoxriver.org/love-our-river-days-2-2/
Please contact Trish Beckjord if you are interested in participating in the St. Charles event. Clean up activities will be from 9:00-11:30 AM. Interested individuals are encouraged to register on-line at https://friendsofthefoxriver.org/love-our-river-days-2-2/. Canoes and kayaks are welcome.
Walk-in registration the day of the event is welcome between 8:15 and 8:45 a.m. at Ferson Creek Park, north of St. Charles along Rt. 31
Friends of the Fox River preserves, restores and protects the Fox River Watershed's resources by connecting people with nature through education, research, restoration and advocacy.

The Conservation Foundation's mission is to improve the health of our communities by preserving and restoring open space and natural lands, protecting rivers and watersheds, and promoting stewardship of our environment in northeastern Illinois.

The River Corridor Foundation of St. Charles supports and advocates for projects that will enhance the downtown St. Charles riverfront environment as a destination for cultural, educational, recreational and economic opportunities that are accessible to all.
For more inforamtion contact:
Trish Beckjord, The Conservation Foundation
tbeckjord@theconservationfoundation.org
630.553.0687 x 206