2014 Golden Turtle Award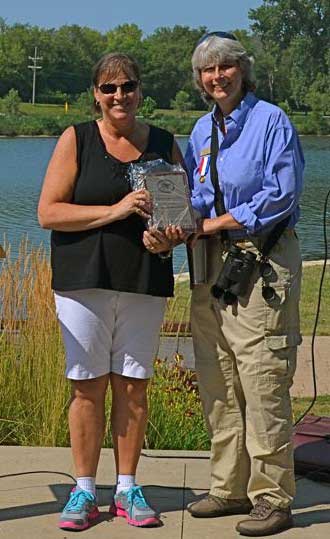 Holly Cabel and Pam Otto
River Corridor Foundation of  St Charles (RCF) presented its annual "Golden Turtle" Awards at the Bob Leonard 5K, 10K, 5K Canine, Adult Walk and the Colonial Café "Turtle Hurdle" Obstacle Course Fundraiser in Pottawatomie Park on Saturday 9, 2014.  These awards recognize a person, group or organization that has contributed significantly to the development, preservation, enhancement and appreciation of the Fox River Corridor in St Charles. Awards were presented by Holy Cabel, President, River Corridor Foundation of St Charles.
First was an individual award to Pam Otto, Manager of Nature Programs and Interpretive Services, St Charles Park District.  Pam cultivates ongoing environmental partnerships with CUSD 303, Kane County Audubon Society and Kane County Forest Preserve.  She has taught Wetland Ecology for 14 years and it is the first field trip the Park District offers in partnership with District 303; roughly 1,000 kids per year plus Teachers and Chaperones.
Second was a group award to the Pottawatomie Garden Club.  Established in 1928 this award winning group of around 120 active volunteer members have enhanced and maintained both public and private properties in St Charles.  Each spring and fall the club plants flowers on the Main and Illinois Street bridges and all around downtown St Charles.  The club also provides the stewardship of the native planting areas along the Bob Leonard walkway.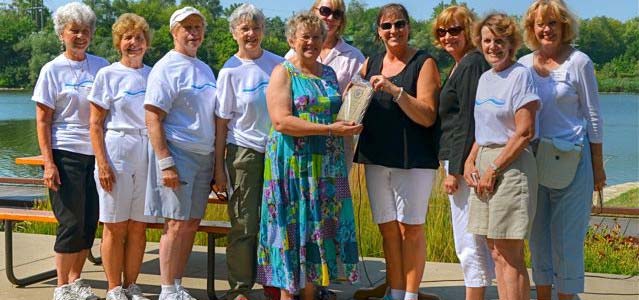 Holly Cabel and Pottawatomie Garden Club