If I Could But Fly Sculpture Purchase by River Corridor Foundation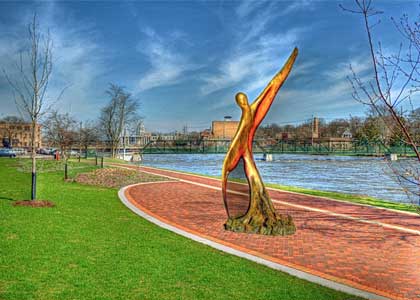 Supporting the addition of artwork and open areas along the riverfront to enhance enjoyment
The River Corridor Foundation of St. Charles (RCF) purchased the sculpture "If I could But Fly" which was on display the summer of 2013 at the Jazz Festival.  This sculpture has symbolic significance because Bob Leonard was a United Airline Captain and was one of the original visionaries for the development of the Fox River banks in downtown St Charles.
The purchase of this almost 6-foot bronze sculpture, "IF I Could But Fly", is the final major element of the Bob Leonard Walkway. It culminates over 10 years of collaboration among the River Corridor Foundation of St. Charles, Downtown St. Charles Partnership Public Art Committee, city, county, and park district. The sculpture, along with the entire walkway, is a symbol of what can be accomplished through public and private cooperation and collaboration as well as memorializing Bob Leonard as a driving force behind this walkway.
Installation and dedication of the statue will take place in  June of 2014.